Teenage Years - Hazel Steley
Part 1: Lore talks about Hazel Steley, a teacher from Edenthorpe, with whom Lore lived.
Lore Confino
audioplayer.jpg
ALL CATEGORIES; Lore Confino Audio
audio/hazelpart1.mp3
audio/hazelpart1.ogg
Part 2: Lore talks about Hazel Steley, a teacher from Edenthorpe, with whom Lore lived.
Lore Confino
audioplayer.jpg
ALL CATEGORIES; Lore Confino Audio
audio/hazelpart2.mp3
audio/hazelpart2.ogg
Hazel Steley was music teacher at Edenthorpe School. She came from Southwold in Sussex. Very gifted in music, she won a scholarship to the Royal Academy of Music, where she successfully completed her studies. I had piano lessons at school, though I was not taught by Hazel. I first learned the piano in Germany, where Fräulein Rau's strict regime of scales gave me a good start. I played quite well and easily passed the set examinations. Then when lessons stopped I never played again.
I knew Hazel quite well at school and we liked each other. So when I had nowhere to go during one of the school holidays, she invited me to stay with her and John, to whom she was not long married. They lived in Hadley Wood, not far from Barnet, a select area nowadays. They made me very welcome. "I am not going back to school," I informed them one day. "I am going to stay with you." And that was that. Obviously there was some soul-searching and eventually Uncle Nat, my guardian since Eileen and children had gone to Canada, agreed to the move.
No more boarding school, I thought happily, and rather ungratefully, for Edenthorpe with all its initial difficulties, had given me a good start. Later, I found out that other refugees from Germany were taken into English families, where they worked long hours as maids, had to rise at 6 a.m. to clean out, lay and start the coal fires, the only way of heating at the time. Some were badly exploited and whenever they could, they studied at night to improve their chances.
My friend Inge Nohl-Oser, who had wanted to study medicine in Germany, was 5 years older than myself and with the outbreak of war, took on jobs as a cleaner, earning 10 pennies an hour (equivalent to today's 4 new pence).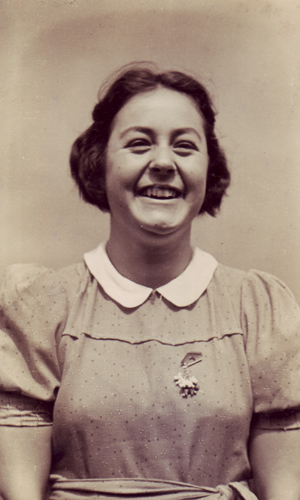 Since I needed school qualifications, I transferred to Queen Elizabeth Grammar School in Barnet. I cycled to and from school every day. There was much to learn and much homework to get through. We had an excellent progressive Headmistress who decided I had leadership qualities. So for instance at school lunches, I sat at the head of one of the tables, having to instruct girls to use their knives and forks properly and generally improve their table manners. There was a backlash from parents who must have felt it reflected on home upbringing. Having missed out on the sciences at Edenthorpe, I found myself in deep waters. I also realized I had little aptitude. To my aid came Rita Perl, also a refugee from Germany, who was good at chemistry and physics, but needed help with English Literature. And so we assisted each other.
Rita and I are good friends to this day even though distance separates us. Rita and her elder sister were adopted by a childless couple who were very good to them. The only difficulty arose when the wife, a spiritualist, saw in Rita's sister a great gift for healing and, in fact, her whole appearance seemed to change when called upon to do this. Rita found this very frightening.
Compared with this phenomenon, Methodism was a sane alternative. John Bown, Hazel's husband, raised in Baslow, Derbyshire, was a committed Christian. He was a Methodist lay preacher with great respect for the Jewish religion. John Wesley, born in 1703, was founder of Methodism. Their chapels were plain without adornment, more like meeting houses. From time to time, I went with John on a Sunday to hear him preach.

In his profession, John was a chemist working in Welwyn Garden City. It was due to his research that plastic was invented. He wrote several papers on his work. He loved gardening and grew many varieties of flowers and vegetables. In this new environment I had to change my ways. Looking back, I think I acquired the characteristics of a chameleon able to merge into any background.
Whilst I was living with Hazel and John, Elizabeth was born. It was a home birth. The sounds coming from upstairs scared me stiff until at last, the first cry of a baby was heard. I watched Elizabeth grow up into a beautiful toddler. She became a teacher and married a Scottish industrialist. When I met her in Scotland after many years, it was quite an emotional reunion. An interesting reflection on upbringing is how children can turn against early influences. With a father who insisted on tidiness and was meticulous, Elizabeth's home was most untidy, plastic was banned and John confided in me that he found it dreadful that his grandchildren did not know by name the books in the Bible.
Hazel and John's families also played a part in my life. I was very fond of Hazel's mother who looked upon me as part of the family. Theirs was a well-to-do family much respected in Southwold. Apart from Hazel, they had three sons, all professional people.
John's family came from a different background. He had an unmarried sister, Marjory, a teacher who remained a spinster all her life. His mother born and bred in Baslow, Derbyshire, was a dour woman. She had no sense of humour, was immensely house-proud and lived by the motto "waste not want not." Hazel found both mother and sister-in-law difficult and dreaded Marjory's visits in particular. Visiting them in Derbyshire was for me another introduction into English life.